Small to enterprise businesses
The Groundbreaking New All-In-One Design Suite and Marketing Portal For Kick Ass Business Owners And Brilliant Marketers
TAKE YOUR BUSINESS TO THE NEXT LEVEL WITH THIS INCREDIBLE ALL-IN-ONE MARKETING PORTAL THAT LETS YOU CREATE EXCLUSIVE, HIGH-IMPACT IMAGES AND VIDEOS TO SHOWCASE YOUR PRODUCTS AND SERVICES
Create a monumental visual brand impact – without the huge effort
All-In-One Design Suite

Marketing Portal

Exclusive image designs     

Stunning live action video templates

Kinetic Style Marketing Videos

Remarkable 3D Videos

Mindbending Logo Reveals

Media Storage
Image and Video Mockups

Photo to Video Conversion

Rookie Approved - No experience needed!

Simple to learn

1000's of designs and videos

Super fast rendering

100% cloud-based

And a TON more
Join 20,000+ happy customers who are growing their brands with DropMock
Which would YOU choose... Bad or GREAT?
Hire an expensive design team and wait for days or weeks while your designs get made
End up with brand images you don't like...despite hiring that expensive design team
Spend time and money repeating this painstaking process over and over
Heck, use multiple software, have huge expense, and spend days doing it yourself and still look bad.
Designs and Videos ALL created from your All-IN-ONE Marketing Portal account that take your brand from average to AMAZING
Give your business and marketing a complete facelift within minutes with stunning professional mockup designs, 3D Videos, Logo Reveals, Kinetic Style Videos and UNBELIEVABLE Live Action Video Templates you won't find anywhere else.
from every industry who are experiencing the game-changing power of our all-in-one mockup design suite –
from new entrepreneurs to established marketing teams.
Good design is a signal to customers that they should buy from you
According to Adobe, companies with strong design outperform companies with weak design by...
According to Google, customers decide how they feel about your website design in less than...
Professional visual content is absolutely essential to the social marketing strategies of...
But the struggle is real...
of marketers feel don't have the ability to produce well-designed visuals.
- Venngage
To build an audience and increase your sales, you need:
A time-saving and cost-effective design and video solution that does EVERYTHING you need and works for YOUR business

EXCLUSIVE visual assets that keep you ahead of the competition

Professional design and images that increase your brand's perceived value, generate leads and most important - HIGHER SALES.
your business can now increase brand awareness, generate outstanding engagement, and make more sales by using the DropMock "All-In-One" Marketing Portal.
Create your first images and videos and launch in minutes.
Exclusive image designs & video content shot on site
Get access to professionally filmed media assets that you won't find anywhere else. All captured and created by our in-house video and photo team!
Download & share to everywhere
Render and share your designs to social media, your website, emails, ad networks, and anywhere you need to be online to showcase your business and get more sales.
Perfect for every brand - no matter what industry you're in
You can customize any template for any business.
The design and video portal for savvy entrepreneurs who are serious about growing their business (and looking good while they do it)
Discover the groundbreaking new way to create fast, attention-grabbing images and video for your business - even if you have zero design or tech skills.
Stop spinning your wheels
You wanted to run a business...but now it's running you. You didn't get into this to spend hours of your life struggling to produce amazing designs.
It's time to shake things up.
Create consistent, beautiful, and professional visual designs and build a brand that people love, trust, and buy from.
Cut your design time from hours to seconds. We're not even kidding!
Get cutting-edge design at a fraction of the cost
Image and video software can cost a fortune. With DropMock you can take care of all your design needs in one place, for one limited-time low price.
Whether you're brand new to marketing or you've been in this game for years, DropMock "All-In-One" Marketing Portal will help turn your brand into something bigger, better, and more profitable
Businesses of all kinds have been seeing huge results with DropMock. Here's what they have to say...
There are millions of people out there who crave a new design and video solution to give them a competitive advantage and get them noticed online
Marketers who don't have the time to create consistent, outstanding visuals for their campaigns and promotions.
Entrepreneurs who don't have the time, the tech skills, or the budget to create images and videos that help them stand out from the masses.
Agencies who've been searching for a unique design toolkit to help them keep a competitive edge.
That's why we created DropMock "All-In-One"
It's an intuitive, easy-to-use, cloud-based design platform that gives you the tools you need to create consistent, eye-catching brand images, videos, mockups, logo reveals, 3D videos, live action videos, hologram videos, and the power you need to launch them faster.
With cutting-edge, exclusive designs you won't find anywhere else, DropMock gives you endless possibilities to promote and grow your business.
DropMock is the difference between blending in and standing out from your competition.
Our customers are getting incredible results like these EVERY DAY. And if they can do it - SO CAN YOU!
It's as easy as 1 - 2 - 3
DropMock is 100% cloud-based software. There's nothing to download or install and you'll always have the latest upgrades. 
Simply select a template that suits you from over 100 original, professionally shot, in-house media assets and scenes.
Personalize your content with one click. That's all it takes to insert your product or brand image/video directly onto your chosen template.
Preview your project and render your customized image or video. Then click to download, and your masterpiece is ready to share. It's that simple!
If you're beyond ready to stop watching this one-time opportunity whizz by, get instant access to the complete DropMock
"All-In-One" Marketing Portal
now
Live action videos
Take your brand images to the next level with 3D live action, high-resolution video templates that aren't available anywhere else.
Themed templates
If your business needs designs for every season, holidays, or special occasions, we've got you covered.
Multiple objects
Want to showcase multiple designs, logos, or slogans in your mock up? We've got just the templates for you.
Start fast with stunning templates
We make it easy for anyone to create beautiful, professional designs, videos, logo reveals, 3D videos, hologram videos, mockups and more for business or personal use. 
Customize anything in the extensive DropMock template library with your own logo, product images, or slogans – in just one click.
Get exclusive, in-house designs
Our team of professional photographers, videographers, and designers create new templates all the time, increasing the variety of styles, target markets, and layouts available to you.
With super professional images and videos at your fingertips, you'll never risk copyright infringements, and you won't show up online using the same boring stock images and videos as everyone else.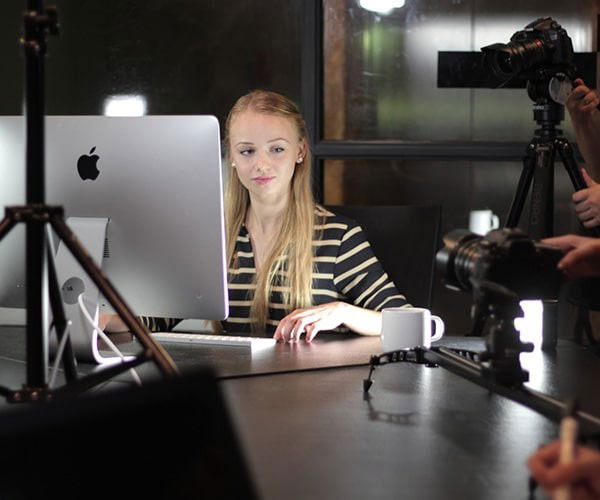 Experience My Project
Quickly access all the projects that you've finished and are currently working on with one click to display to your friends, clients and colleagues.
Effortlessly add audio
There's no need for you to use extra video-editing software! With DropMock, you can choose from an awesome selection of music in our library, or add your own.
Preview in real time
Get everything perfect before you download and launch your designs and videos. 
The Preview feature shows your mocked up designs before you render and share them, saving you time if you notice a mistake.
And if you're not happy with your design or video... Simply take a break and come back - Your Portal instantly SAVES your work for when you are ready to start again.
Render at light speed
Say goodbye to waiting forever for your videos to finish rendering. 
Our powerful technology ensures your videos are ready in a flash, so you'll never have to yell at your computer for timing out again.
100% cloud-based
When you use DropMock "All-In-One", there's nothing to download or install. Access your account from anywhere. Work from home, from bed, from the beach - wherever!
You can use it on your PC, or Mac whether you're in the office or on the move.
And there's a ton of other incredible features, including:
Yup, that's right. Our image and video editor is built right into your DropMock All-In-One dashboard for immediate and ease of use - for a fraction of the price or other editors.
Never struggle to create the right sized image again. Crop your images, photos, and mockups to the perfect ratio with just a couple of clicks.
Search and recommendation engine
We've got a LOT of templates. To save you even more time, you can search and get recommendations for the exact template you need with our incredible and intuitive search engine.
Design your own crisp, modern, and professional image scenes in minutes.
Choose the size, hit create, and you are off and running to create your dream images and designs.
Whoa, that's a lotta stuff!
Plus... Grow your business faster with the DropMock community
DropMock isn't just software. With our active Facebook community you'll join like minds to celebrate your wins, share your struggles, and get a ton of new ideas for your business.
...AND for limited time on this offer only, you can choose to have a commercial license worth $97 included.
When you purchase DropMock on this offer, you'll get a commercial license worth $97 included! 
With the commercial license, you can start creating and selling designs, images, logo reveals, 3D videos, live action videos and hologram videos for profit to other businesses and make an instant return on your investment, or open up a whole new income stream.
Create high-converting Facebook video ads in 60 seconds with our pre-made selection of video templates.
Launch viral social media campaigns with our amazing image and video templates.
Take your sales video creation from 6 days to 60 seconds.
Fast track your way to more cash with:
Stunning mockup designs used to be an art, and impossible to create without a ton of time and money. DropMock turns it into a science.
Turn "boring" physical products into hot-off-the-shelf masterpieces that increase the touch and feel quality of your products and skyrocket your sales.
Sell your custom T-shirt designs with our stylish and flattering multi-colored T-shirt video mockups.
Get instant access to the DropMock "All-In-One" Marketing Portal NOW and start creating fast, fun images, designs, and videos that get your brand more attention and more sales
DropMock was developed to help people just like you get a cutting-edge advantage for your business. There's nothing else on the market like it.
We're so confident you'll see amazing results that we want to make it as easy as possible for you to say YES to experiencing our all-in-one mockup design suite for yourself. 
That's why we include our Golden Guarantee with every purchase. 
Take 30 days to try all the features of DropMock. If you don't love it - for any reason - simply message our friendly support team to get a full refund. 
No hoops to jump through. No questions asked.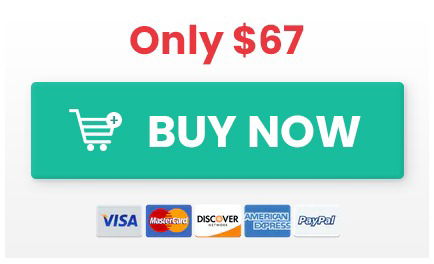 of marketers have trouble producing engaging visuals consistently.
- Venngage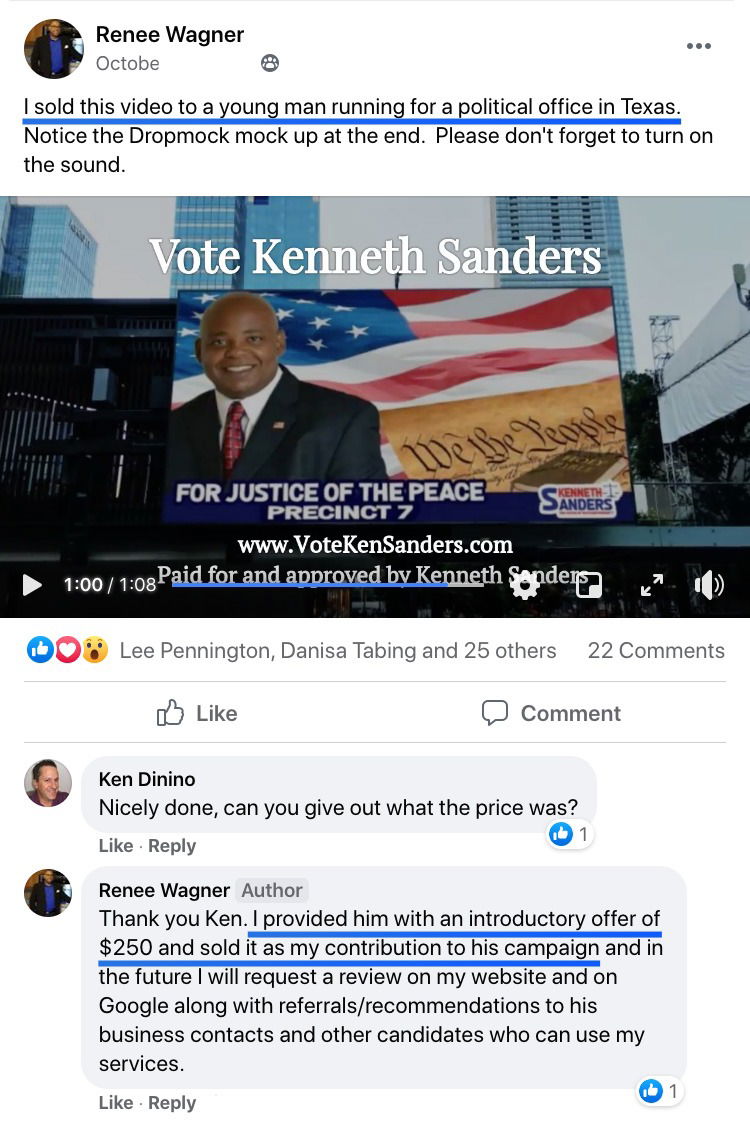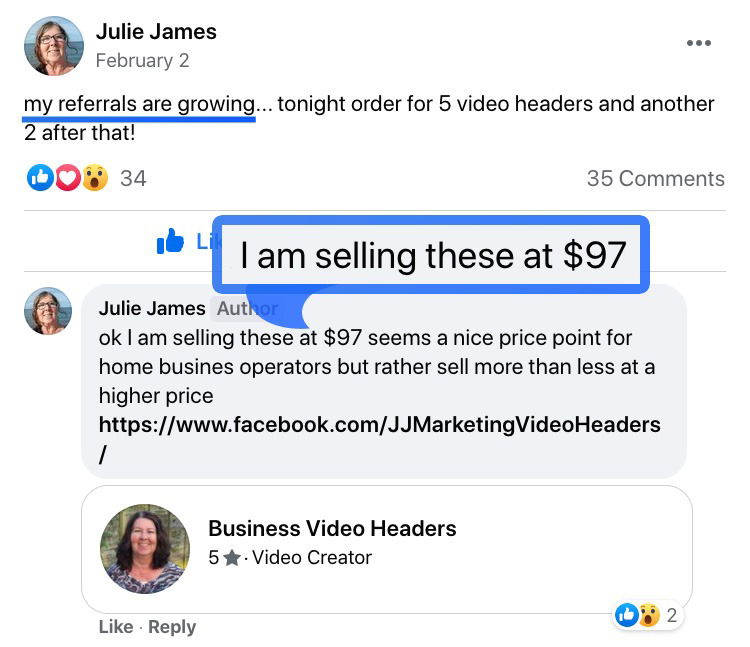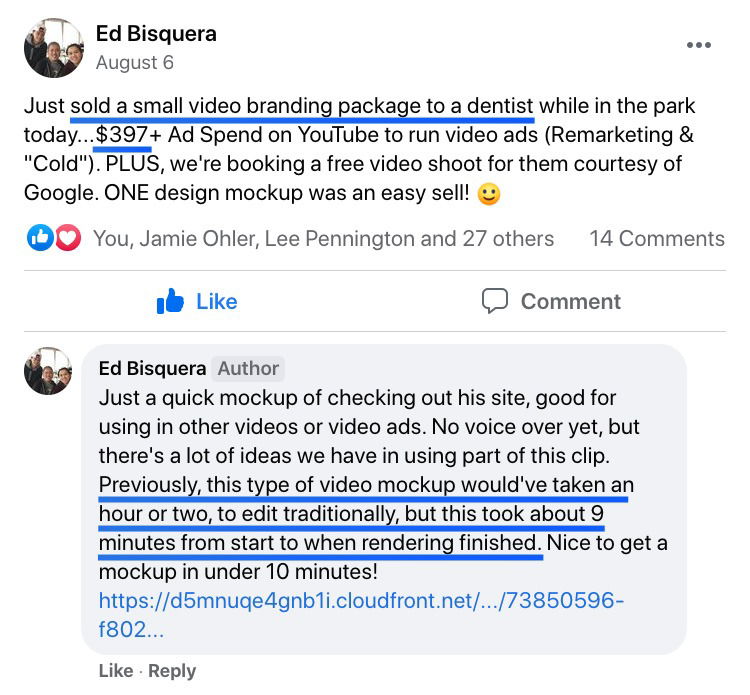 Frequently asked questions
DropMock sounds like exactly what I need to create better images and videos - but I'd like to think about it a bit more. Can I still get this offer later?
Sure! You can buy DropMock after this special, limited offer ends - but the price will be much higher. Plus, once this offer expires you'll need to sign up on a recurring monthly subscription basis. 
Buying now with the low one-time price of $67 means you only ever have to pay for DropMock once and it's yours for life, including all future templates and upgrades. You'll save money and get a faster return on your investment.
I run an agency and I'd love to sell DropMock mockup to my clients. Is this okay?
Yep. During this limited time offer, we'll give you a commercial license FREE, which means you can sell your DropMock designs as a service.
Once this offer ends, you'll need to pay more for an extra licensing fee to upgrade DropMock for commercial use.
I'm a total design newbie, and my tech skills are kind of embarrassing. What happens if I can't figure out how to use the software, or I get stuck?
Our dedicated customer service team gets rave reviews for being fast, friendly, and knowledgeable. They're always on hand to help answer your questions or troubleshoot any problems. 
Will you update the product?
Yep - we're committed to continually developing DropMock! Our production team, designers, and developers are constantly researching new trends and technology, so you'll always stay on the cutting edge of what's possible.
This offer seems way too good to be true! Are there any hidden costs?
Nope. What you see on this page is exactly what you get. That's why thousands of our customers come back time and time again to buy our new products - and tell their friends!
I'm worried this might not give me the results I'm looking for. Do you offer refunds?
DropMock is used by over 20,000 customers who are seeing amazing results in their businesses. We're so confident you'll find the same success that we have a 30-day money-back guarantee. 
You're free to try out all the amazing DropMock features for 30 days. If you're not totally in love with your purchase, we'll refund you in full. No questions asked!
In an increasingly crowded online market, exceptional brand images and videos are essential for your business to thrive.
Do NOT miss out on this limited opportunity.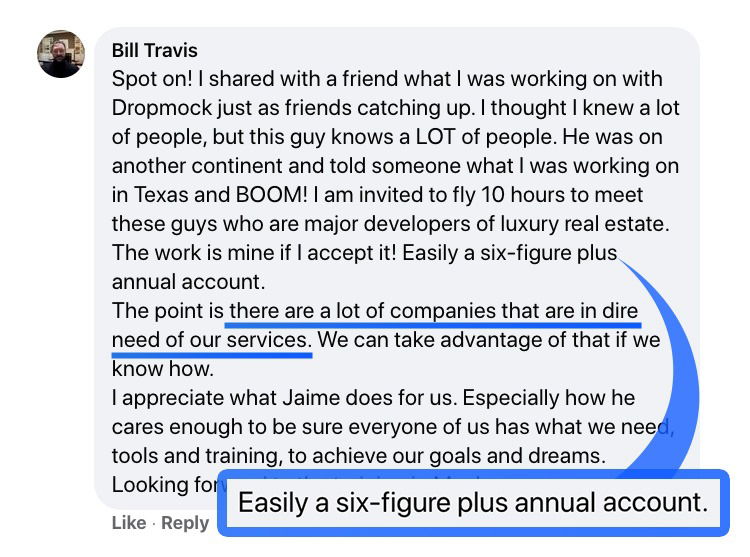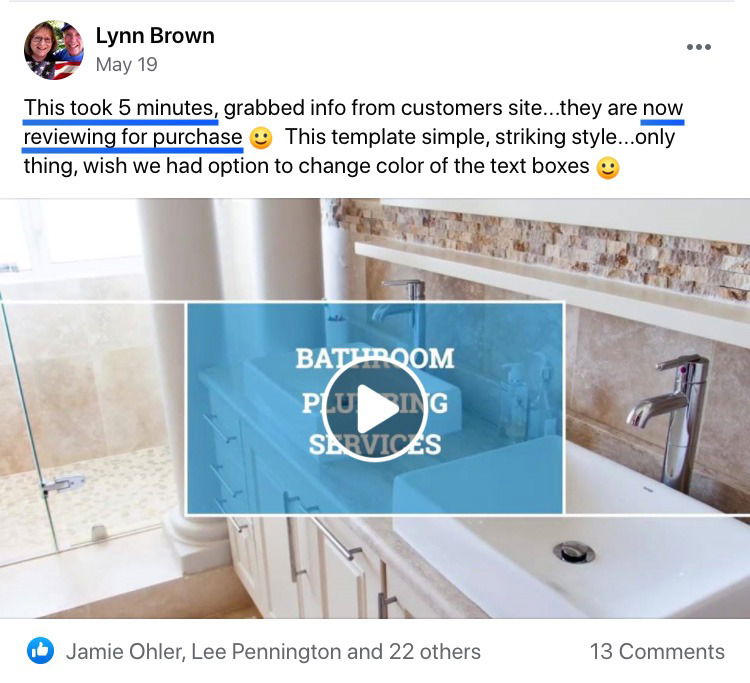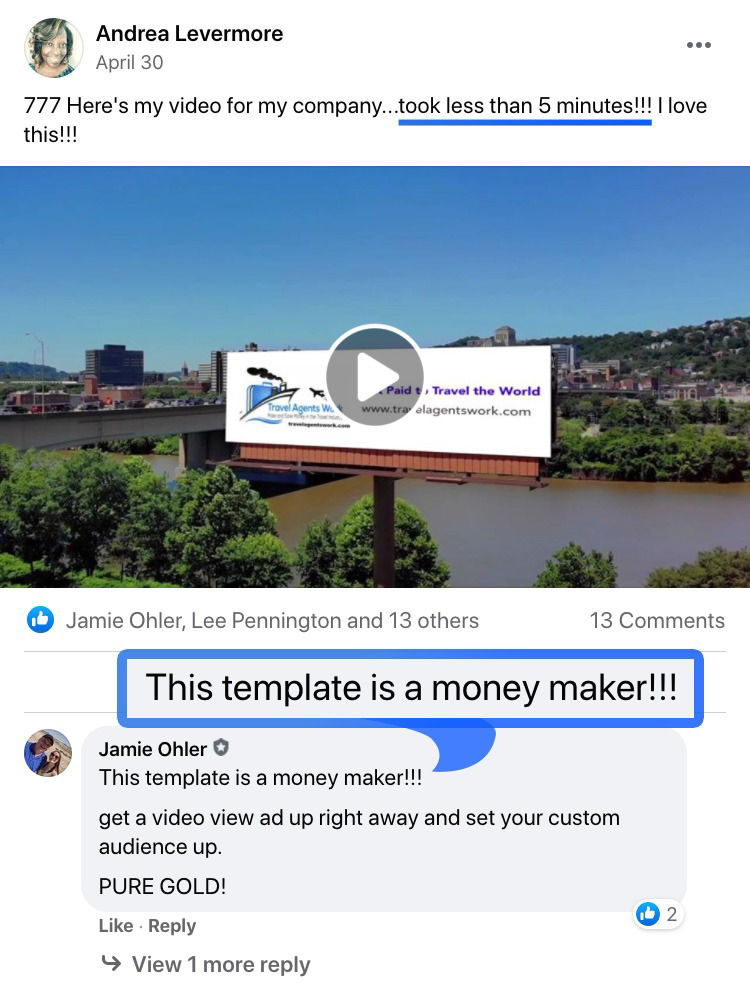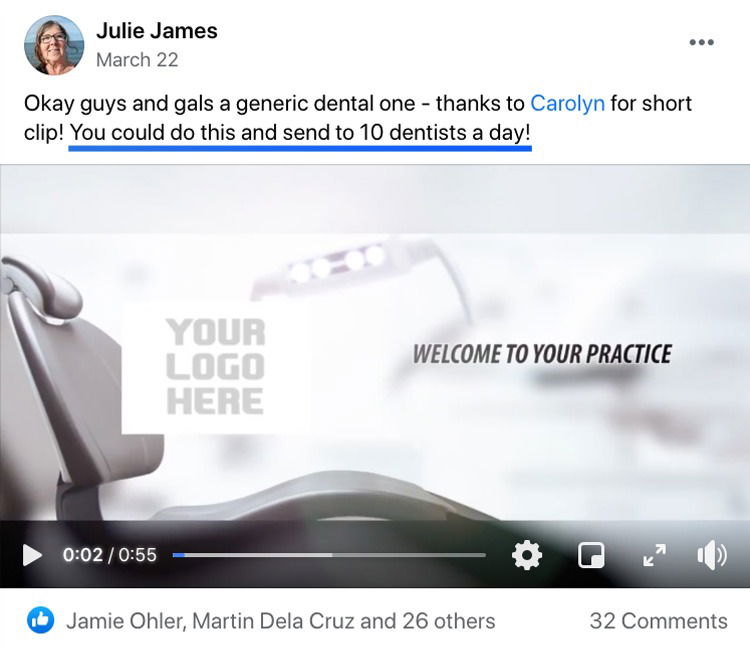 Bad design and videos kill business
Great designs and videos, from inside your DropMock "All-In-One" Account, grow business
Differentiate you from your competitors
Create an incredible customer experience
Make a memorable brand impression
Create beautiful designs and videos in seconds that...
Whether you've been searching for a design and video solution that can do all of this (and more) or got lucky and just stumbled onto this page –
Personal Asset Library 
Keep all of your assets in one place, for easy access whenever you're creating brand new videos and images on DropMock "All-In-One".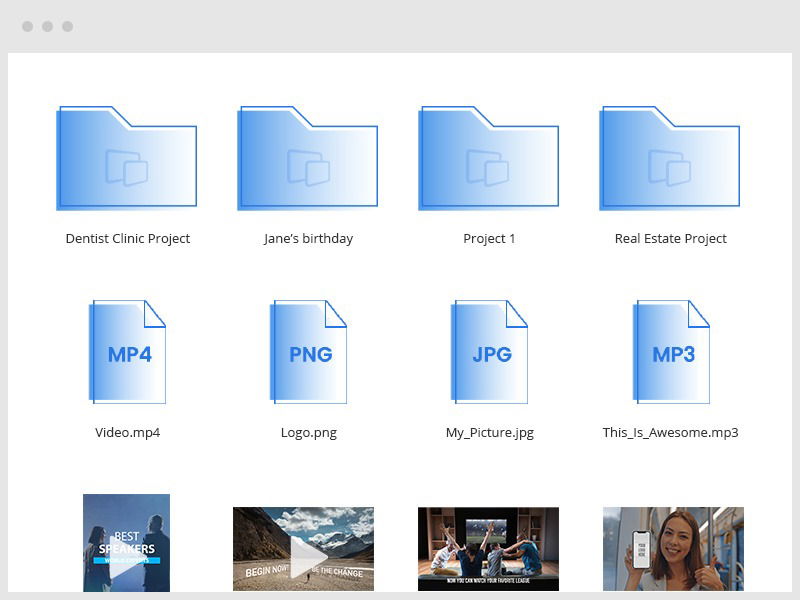 For a special, one-time low price, you'll get everything you need to create dazzling brand assets for your presentations, social media, emails, blogs, podcast or website.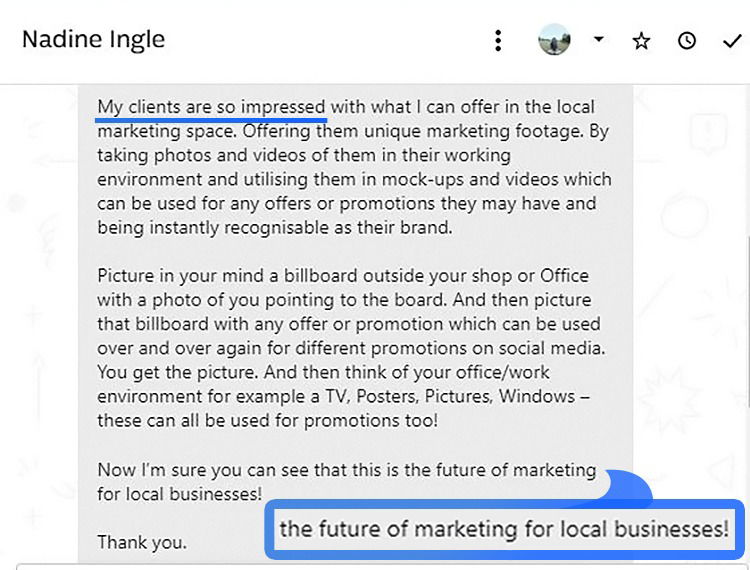 © DropMock 2023 - All Rights Reserved